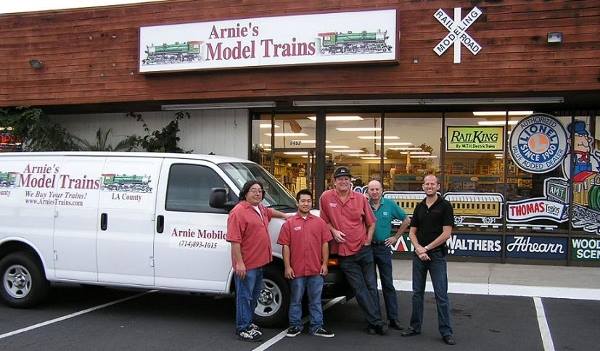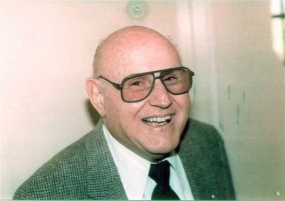 Arnie's Trains was started by Jerry Arnold and (Son) Greg Arnold (aka "Arnie") in 1975 on Westminster Blvd, Westminster, CA. Jerry was a retired employee of the Great Northern Railroad and Greg was looking for an escape from the corporate world (AT&T). Jerry and Greg walked into a little Hobby shop on Westminster Avenue and it just happened to be for sale. We could not pass the deal, $3000.00 dollars for lock, stock and barrel and Arnie's Trains was born. Jerry worked the store full time and Greg worked part time for the first years with the store increasing sales every year.
The original store was 800 sq. ft, and we were able to expand to adjacent spaces on two occasions to a total of 2400 sq. feet. Now the store was too large for Jerry to handle with only Greg's part time help. By a stroke of fate AT&T was in the process of divestiture spinning of all of their Baby Bells and Ma Bell offered all of their management a buy out package. Greg could not pass another great opportunity and took the buy out package. Now Jerry and Greg were able to devote full time on expanding and improving the store.
In 1985 Arnie's Trains moved to the corner of Edwards St. and Westminster Avenue into a brand new larger space. Our business was blessed and it continued to grow and prosper. We stayed in that location for ten full years with each years business gradually improving. In 1997 it was time to expand and move to our current 3600 Sq. Ft show room at 6452 Industry Way. Unfortunately Jerry passed away just as Arnie's Trains was opening the new location. Greg continued doing business in the manner Jerry had always believed.
Arnie's has always and will always give the customers the old fashion honest and courteous good service. The new store's business took off immediately being again blessed with the help of employee Dave Rickhoff and his wizardly knowledge of model trains. Greg's good fortune continued when a young man by the name of Matt Haynes joined the Arnie's team with youthful enthusiasm. Matt became a co-owner in 2009. In 2008 Kevin Honda Joined the Arnie's Team as a part time employee and eventually worked his way up to repair / DCC technician, now Store Manager. Greg gives thanks everyday for the opportunity to make a prosperous living selling model trains to a wonderful customer base. Great Customers, Great Employees, Great Business, Great Life. Thank you God.