The Owners :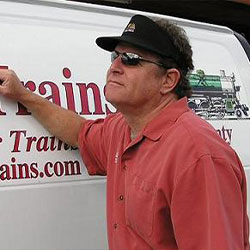 Greg Arnold: Arnie was born North Dakota but grew up in Garden Grove and attended Westminster High. He worked for the Pacific Bell and AT&T as a personnel manager for 10 years before deciding he wanted to be his own boss. In 1984 Greg took a management buy out from the Bell System and found himself very busy with making store improvements and bringing Arnie's Trains to where it is today. Greg's hobbies include golfing, gardening and traveling with his wife Denise. Several years back Greg and Denise purchased land on the Big Island of Hawaii. Each year they go to Hawaii and work on the land planting trees, shrubs and building trails. Greg's Grand Father and Father worked for many years on the Plains of North Dakota for the Great Northern Railroad. Greg has a deep appreciation for the railroads of this country and the people who built and worked on them.
---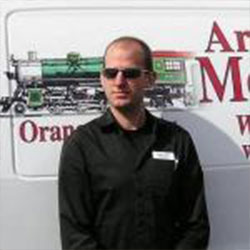 Matt Haynes was hired by Greg in 1997 while attending Huntington Beach HS. Matt continued working at Arnie's part-time while enrolled at CSULB until 2006 when he completed his Bachelors in accounting. Matt worked at a big accounting firm for 2 years and continued to stay in touch with Greg. Arnie's Trains was really kicking well and Greg needed a full time guy to help with the work load. Greg offered Matt full time employment with an ownership offer to leave the accounting field. In 2008, Matt returned to Arnie's Trains and pushed for a well needed re-model which was completed by the end of the summer. In 2009, Matt became an owner and continues to help change Arnie's into the premier train store in So.Cal.
Matt started off in O gauge, mostly modeling Scale Amtrak equipment from all O gauge manufactures. He specializes in MTH DCS and has an extensive knowledge on MTH and Lionel products. After realizing that O gauge was too big, he switched to N Scale and still models Amtrak equipment, including some very rare brass California Amtrak sets.
Employees: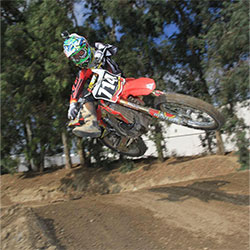 Kevin Honda started working at Arnie's in 2009 and has been a great addition to the Arnie's Team and has been a big part of the Arnie's Trains facelift. Kevin has been a customer of Arnies for many years. Prior to working at Arnie's he worked in the Motorcycle Industry and did some MX Racing. Kevin is a model railroader at heart and he models the Florida East Coast Railway in HO scale. He is also our Store Manager, DCC technician, and Repair Man. He can install sound and digital control into various models as well as repair them. Kevin is also a SoundTraxx Certified Installer. When he is not at the store or playing with his trains you might catch him at the local motocross track spinning some laps.
---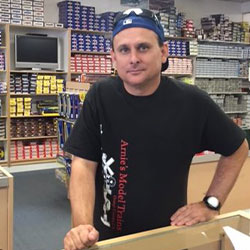 James Baxendale Has been a great addition to our team. James brings a great knowledge of east coast railroading and short lines from the west coast to the east. He is currently our Ebay Manager taking care of all of our online orders.
---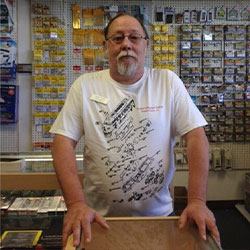 Terry Williams has been with Arnie's Trains for many years and is one of the utmost authorities on the history of model HO trains and has been a train collector since the 1950's. His knowledge of the industry has helped many customers in rebuilding their vintage model trains.
---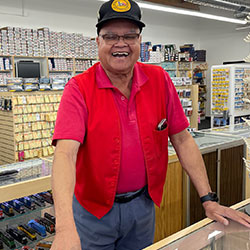 George Huckaby has been with Arnie's Model Trains for over 3 years now and is a great addition to our staff! He brings his knowledge of street cars and light rail to the store. He is an avid modeler in HO and N Scale of Pennsylvania Railroad and light rail models. George also works with Bowser in their street car division.
---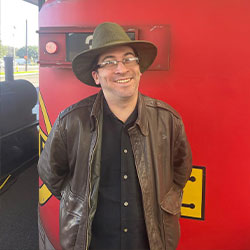 Travis Rey has been with Arnie's for 9 years now and has been a great addition to the team. He brings his knowledge of paint and weathering to the shop. Travis also enjoys painting gaming figures in his spare time when he his not running his N-Scale trains.
---
Andrew Solares joined Arnie's 2 years ago and brings his knowledge of N-Scale, DCC and weathering to the store. He has helped grow our N-Scale department to what it is now. When he is not at the store or playing with his trains, he plays and teaches trumpet.
---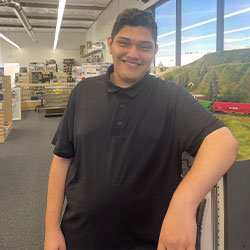 Angel Gonzalez started with Arnie's as an intern and is now part of our team. He brings to the table his eye for detail. Angel has been with us for a year now and is a great addition to the store. He is an avid N-Scale modeler in his spare time.